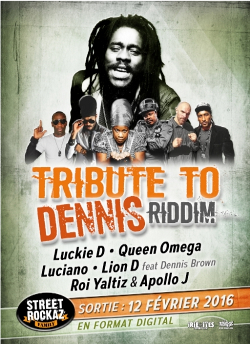 Dennis Brown – The Crown Prince of Reggae – died only 42 years old. Much too soon. And in memory of his music Street Rockaz Family has put out a bouncy riddim called Tribute to Dennis Brown.
It comes with five vocal cuts and the first single is Lion D's Racial Discrimination, which samples Dennis Brown's voice from his Easy Take it Easy, a superb rocksteady cut recorded for Coxsone Dodd at Studio One.
This one riddim album also features vocal talents from Roi Yaltiz & Apollo J, Lukie D, Queen Omega and Luciano, who has always been heavily inspired by the great Dennis Brown.