Acclaimed Jamaican five-piece band Raging Fyah signed to reggae powerhouse VP Records last year and their third album Everlasting is now scheduled for release in May. United Reggae can offer an exclusive taste of the new album – listen to the uncompromising and powerful Raggamuffin below.
Some of the members of Raging Fyah met at world-renowned Edna Manley College of Visual & Performing Arts in Kingston and they formed as Raging Fyah in 2006. Inspired by the likes of The Wailers, Third World, Steel Pulse and Aswad, Raging Fyah tackles topics of socio-economics and politics with an underlying message of hope and inspiration.
Everlasting was recorded live at Kingston's legendary Tuff Gong Studios with producer Llamar "Riff Raff" Brown and incorporates a variety of influences, various acoustic subtleties and guest artists Busy Signal, Jesse Royal and J Boog.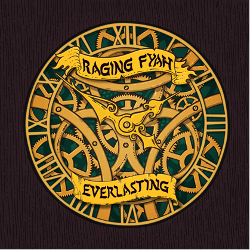 "Working on this album was very exciting but challenging; we wanted to stay within the context of who Raging Fyah is, but we never want to box ourselves in either," explains bass man and backing vocalist Delroy "Pele" Hamilton in a press release, and continues:
"Being free spirited as musicians, we spend many hours jamming all kinds of music when we rehearse so we said why not use some of what we feel naturally on our record?".
The title Everlasting was chosen to convey the durability of Raging Fyah's music and the long term effect collaborating with Llamar Brown has had on the band.
"We had the choice to work with any producer we wanted, locally or internationally, and we chose Llamar. We have learned so much from him; the way he helped to shape our sound is an everlasting lesson," says Raging Fyah's keyboard player and backing vocalist Demar "Keysie" Gayle, and adds:
"The challenging lyrics on Everlasting challenged what we were able to do as musicians. Musically, we kept our roots but went way beyond them because there is not just one shape to fyah, it takes on different forms."