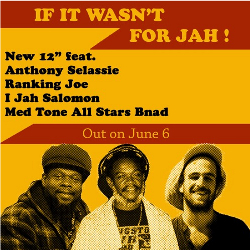 Jamaican singer Anthony Selassie has together with tongue twisting foundation deejay Ranking Joe joined forces with Med Tone Records for a brand new 12".
The single comes with four cuts – a vocal courtesy of Anthony Selassie, a dub version by Asaf Similan, a deejay slice from Ranking Joe and a horns cut with an Ethiopian jazz vibe played by I Jah Salomon.
The single hits the streets about June 6.