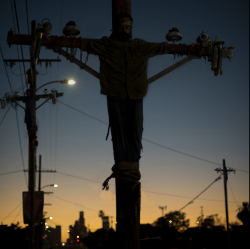 Successful singjay and producer Damian Marley has announced his fourth and highly-anticipated album Stony Hill, the follow-up to the acclaimed Welcome To Jamrock, which was released eleven years ago.
During these years Damian Marley hasn't been inactive though. He has put out singles, produced other artists and released albums with the short-lived super-group SuperHeavy as well as the astonishing NAS combination Distant Relatives. He has also kept himself busy with his and his brother's label Ghetto Youths International.
The first single of Stony Hill is Nail Pon Cross, which is currently only available at Tidal, a streaming service where Damian Marley is one of the famous artist owners. A video for the single has been released. Also only via Tidal.
The Marley family has been busy in 2016. Ziggy Marley has put out a self-titled album and Ky-Mani Marley dropped Maestro and a combination album with German superstar Gentleman. Stephen Marley put out the much-anticipated Revelation Part II: The Fruit of Life, the follow-up to the rootsy Revelation Part I: The Root of Life. It will be a fierce battle for the Reggae Grammy.
Stony Hill is expected to drop on October 28.