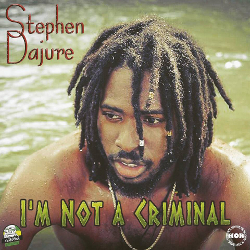 Fresh from Perfect's Giddimani Records comes the debut album from Jamaican singer Stephen Dajure, who started – just like many other Jamaican vocalists – in the school choir, where he was singled out as lead singer.
I'm Not a Criminal comes with eleven cuts and the title refers to words often used by the Jamaican Rastafarian community, since there is a lot of biases and stereotyping when it comes to Rastafarians and how they are perceived.
The set is produced by Perfect Giddimani along with Sam Gilly from House of Riddim and is now available on digital platforms worldwide.