In 1982 reggaefied punk rockers The Clash dropped their sixth studio album Combat Rock, a set that featured Straight To Hell, a song that would end up as one of their most beloved cuts.
Reggae veteran Horace Andy once recorded a version of the tune, but wasn't satisfied with the result, so it was shelved since the singer felt it needed a different rhythm track.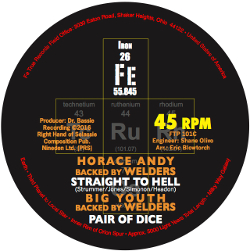 Now, some 35 years after its initial release Horace Andy has recorded a new version, a version he's satisfied with. He brings his unique crying style to Straight To Hell, which will be released as 12" single on March 16 and about a month later as digital download. The single will be backed by a deejay version courtesy of Big Youth and a combination cut with both artists.
For this new version producer Eric Blowtorch has re-fashioned the entire song to fit Horace Andy's voice.
"I put together a bassline and a topline, what Jamaicans call a horn head. I could not and would not attempt to ape anything from the original. The bassline turned out more like Family Man Barrett's on the Wailers' Stir It Up.' I played it all for Horace. He said he loved it, and spent a week in Kingston on the vocals," says Eric Blowtorch in a press release.
Ten per cent of the proceeds from the release will go to Doctors Without Borders, the international organization known for tending to the health needs of people in direst need in the most dangerous places.