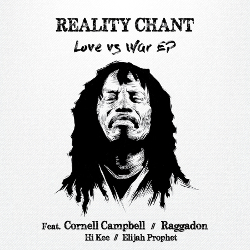 New Zealand's Reality Chant productions return with an overdue release featuring the unmistakable voice of Jamaican veteran Cornel Campbell.
The Love Vs War EP features two minor key rhythms - a haunting Augustus Pablo influenced melodica dub piece and a digitally augmented remix. Vocalists include Campbell, fellow Jamaicans Elijah Prophet and Hi Kee plus Montserrat's Raggadon.
"I believe this is our most developed production to date" says label founder Gabriel Messenjah Calcott in the press material.
Love Vs War is out now on digital platforms - with limited 7" cuts available.