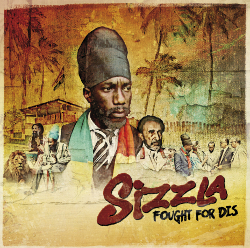 Veteran chanter Sizzla has joined forces with renowned Jamaican producer Anthony Senior from Al.Ta.Fa.An Records on the upcoming album Fought For Dis, scheduled for release on LP, CD and digital download on June 16.
Sizzla and Anthony Senior met in the mid-90s when the Al.Ta.Fa.An label was getting started. On Fought For Dis they have recorded ten cuts, including several combinations, for example with Capleton and M-1 from U.S. hip-hop outfit Dead Prez.
"It was all joy doing this album with Sizzla. He would always teach something before he starts do anything. We recorded a song every year and all songs were done at Judgement Yard in Kingston," told us Anthony Senior.
The new set bring together unreleased material along with already available cuts, including Don't Worry, a combination with Gentleman and Mark Wonder.