Yep Roc Records and Studio One Records are partnering with Discogs on a new reissue soon to be released – Freddie McKay's debut album Picture on the Wall. Today United Reggae premieres a rare Jamaican mix of the beautiful Sweet You, Sour You, a track not featured on the original album nor on any digital outlets.
Last year it was announced that U.S. based Yep Roc Records had teamed up with legendary Studio One Records to reissue a number of albums. And so far the collaboration has spawned the release of six sets – The Wailers' debut album, the compilation Money Maker, The Skatalites' Foundation Ska and a compilation covering the works of late trombone giant Don Drummond as well as two rare broadcasts of the Studio One Radio Show and the compilation House of Joy, which includes rare 45s.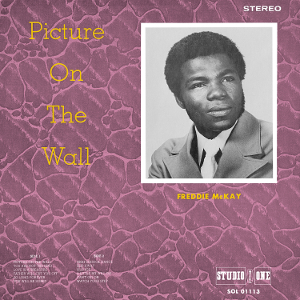 And now it's time for yet another release – Freddie McKay's debut album Picture on the Wall. He is one of many unsung reggae heroes and died in the mid-80s from a heart attack. He was only 48 years old and had just finalized what was to be his last studio album I'm a Free Man.
Picture on the Wall was originally put out in 1971 and finds Freddie McKay backed by the Soul Defenders. It has previously been reissued, but has been out of print for over a decade. This new version comes with a whopping 24 tracks, many not featured on CD or LP before, making this deluxe edition something of a definitive collection of Freddie McKay at Studio One. It includes alternate versions, rarities and extended mixes from the deep Studio One vaults.
Sweet You, Sour You is only available at United Reggae until Picture on the Wall: Deluxe Edition drops on LP on International Reggae Day, July 1, exclusively via Discogs. On August 11 the set is widely available on LP, CD and digital. This album is a North American release only.