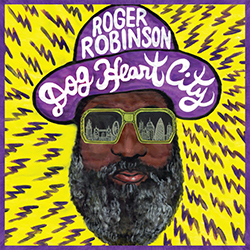 Roger Robinson is a Trinidadian writer, dub poet and musician, living in London since 20 years.
After the album Dis Side Ah Town in 2015, he teams again with Disrupt from Jahtari label for the new album Dog Heart City.
It was originally released on cassette in January as limited edition and is now available on vinyl, distributed by Jahtari.
It has been re-mastered and cut by Pole for extra analogue goodness and coming with hand-drawn cover art by Kiki Hitomi.
Each song his a story in London city. Nightshift tells about the workers who clean the buildings where power is held, and the contrast between their and where they clean. Flowers comments on the rate of young black men getting killed. And Swastika, for the Post-Brexit badge that this city wear.
Tracklisting:
Dog Heart City
Bun Bun Bun
Ruins
Shine
New Maps
Swastika
Corridors
Flowers
Nightshift
Welcome To Dog Heart City