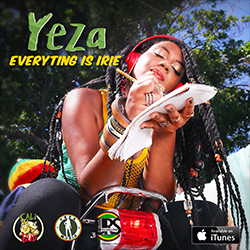 Yeza, derived from the name Yezambique, which means 'Strength and Resilience' in Swahili, is a Jamaican singer and songwriter. Everyting is Irie is her first single, recorded with the Rebel Up Band.
"The song is an encouragement for everyone, no matter who you are or what stage of life you are in, despite any challenge, to maintain a positive attitude," said Yeza.
This song has been recorded at Digital B Recording Studio and produced by Calibud Music and Universal Reggae Sounds.
Everyting is Irie is available on all digital platforms, distributed by VPAL.
Mykal Cushnie explained about the video that he directed: "We juxtaposed real life with abstract images to give the audience the 'a day in the life' vibe with Yeza, but also kept it edgy with cool locations and colorful styling. Real images with real youths touching the road making moves and music."