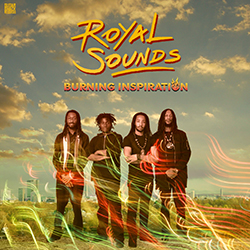 Royal Sounds are a young family based band consisting of brothers Ajani and Gyasi who formed the band in 2012 and their cousin Hannibal, joined by Ras Sempah. Ajani and Gyasi's father Ras Alkebu, was lead guitarist for the legendary Prince Lincoln Thompson's Royal Rasses.
After several years on stage, and their first music video Changes in 2013, this young British band is about to release its first album.
Burning Inspiration will be released by Sugar Shack Records on the 27th of October 2017, available on limited edition high quality double vinyl LP, CD and as a digital download.