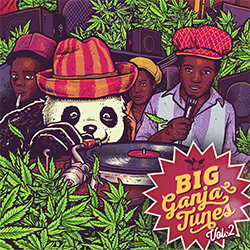 After a first compilation in 2016, the Spanish seedbank BIG Seeds releases its second reggae compilation Ganja Tunes Vol.2. This album is the collaboration of 22 singers from 12 different countries around the world.
The different riddims used in this compilation of cannabis songs have been created by Positive Vibz, Good Over Evil, Cosmic Beats, Luv Messenger and Shico Diechiocho.
Good Over Evil Productions has done the mixing and mastering of all the 21 songs of the album, produced by BIG Seeds and Good Over Evil Prod.
Tracklisting:
Intro
Sista Moni - Green & Brown (Sweden)
Javier Fonseca ( Alerta Kamarada) - Mi florecita del jardín (Colombia)
Pato Ranking - Fumo Hierba (Chile)
Leah Rosier - Smoke out (Holland)
Vito (LuminaZion) - Siéntete Irie (Argentina)
Hermano L - Agüita (Spain)
Monsoon Feat. Jahricio & Lions Positive - Yes Rasta (Jam/CR)
Ali roots - Free to grow (Italy)
Raszor Brankata - Higher Vibez (Switzerland)
BIG Combination - BIG Seeds Combo (Spain, Sweden, Arg., Italy, Brazil)
Jahsent Obatala - Longevity (Jamaica)
Kumbia Rockers Allstars - One Spliff a day (Colombia)
Rasbarule - One Dread (Colombia)
Jahricio - Good Sensi (Costa Rica)
Jaume Mas Feat. Criterioh & Balle Doble H - Mallorca Weed (Spain)
Shaïan - Uniformiser (France)
Jawara - Boom Draw (Jamaica)
Nico Royale - Ganja Dream (Italy)
Kontent - Legalize (Colombia)
Solano Jacob - Big Ganja Meditation (Brazil)