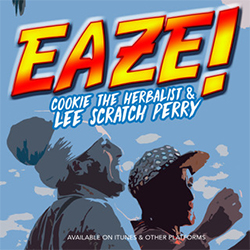 Swiss artist Cookie The Herbalist joins Jamaican legend Lee Scratch Perry to release the single Eaze!.
They wrote the song together while chilling in Negril, Jamaica.
"We tell unnu fe eaze, cool now please! Hold your manners and your orders ina times like these... and don't forget to pray ina times like these..."
The dubby sounding rythm for the song was created by Swiss producers Pascal Barro from Weedy G and instrumentally rearranged and redubbed by German band Boomrush.
Eaze! will be released today for digital download.