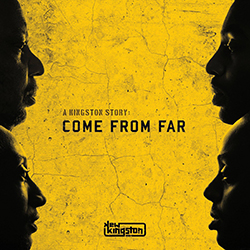 After Kingston City in 2015, New Kingston release their fourth album A Kingston Story: Come from Far.
New Kingston is a family band consisting of three brothers: Tahir a.k.a. Slim (on keyboards), Courtney Jr. (on drums), and Stephen a.k.a. Suki the eldest (on guitar) with all three contributing as vocals. Their father Courtney Panton Sr, a first-generation American-Jamaican, initially contributed as bass. Courtney Sr had also previously played in the New York reggae scene along with artists such as Michael Goldwasser, and had introduced the brothers to reggae music when they were young.
A Kingston Story: Come From Far is their second collaboration with Easy Star Records. The album will be available on August 25th 2017.
"Everyone has a journey they are on or one that has ended," says Stephen. "It all starts somewhere and we are no different. We have 'come from far' but 'look how far we haffi go'."