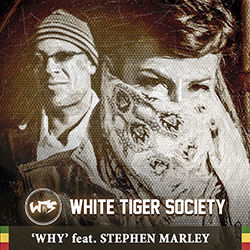 White Tiger Society drops the song Why featuring Stephen Marley tomorrow. It is the first single from the forthcoming debut album, Sound of the White Tiger, to be released on September 15th via Lalabela Music Group.
White Tiger Society, led by Dajla "The White Tigress" and engineer/producer "Comissioner" Gordon Williams, is a collective that fuses the sounds of Reggae, Soul, and Hip-Hop.
Dajla is a vocalist and multi-instrumentalist born in France of a Tunisian dad and a French-American mother. She has made her way through the music scenes in France and the UK while seeking inspiration in central Africa.
"Comissioner" Gordon" Williams is a music recorder, engineer, and mixer from New-York. Dubbed the "Commissioner" by rapper KRS-One, his resume includes multiple Grammy Awards and numerous Gold and Platinum albums such as The Miseducation Of Lauryn Hill and Santana's Supernatural.
In 2013, Gordon and Dajla met in New York City and through their work, initially as a writing/production team, the White Tiger Society was born.
"White Tiger Society is a union of reggae, heart-felt soulful vocals and feel-good production. We bring these various flavors together with a positive message to create our sound. The Sound of the White Tiger," said Dajla.
"Stephen and I have a long relationship in music, going back to the days of The Miseducation Of Lauryn Hill, all the way up to Welcome To Jamrock, on which we worked together, as well as his latest album, The Fruit Of Life. Stephen actually picked 'Why' to collaborate with us on, and we are thankful to have 'Ragga' as part of the White Tiger family!" adds Williams.