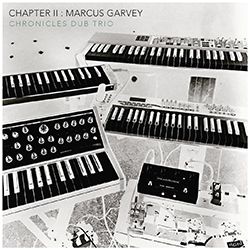 Chronicles Dub Trio is an instrumental dub-reggae-jazz band from Toronto: Alexei Orechin on guitar, Jonathan Rattos on bass, keys, and melodica, and his brother Craig Rattos on drums. Their music is paying homage to reggae artists such as Augustus Pablo, Bud Powell, Ernest Ranglin and King Tubby.
Created in 2016, with a self-produced first album called Reflections, the band come back with a new album called Chapter II: Marcus Garvey. Also released on their own label Coated In Dub, this album features interpretations of six vintage riddims and pays tribute to the pioneers of roots and rockers era of the 70's. The all album is a live, straight to tape recording without any additional overdubs.
Chapter II: Marcus Garvey will be available on September 1st 2017.
Tracklist:
Marcus Garvey (Burning Spear)
So We Love It / So We Dub It (Sugar Minott)
Cuss Cuss Dub (King Tubby/Rankin Joe)
Drum Song (Jackie Mittoo)
Police & Thieves Dub (Junior Murvin)
Queen Of The Minstrels (Cornell Campbell)
Candlelight (Orechin)