Vintage Reggae Bash : Brooklyn 1983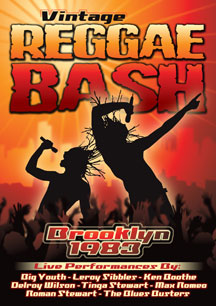 This DVD consists of footage from an incredible Reggae festival held at the historical Empire Roller Skating Center in Brooklyn, NY circa 1983. It includes sets from such legendary artists as Big Youth, Leroy Sibbles, Ken Boothe, Delroy Wilson, Tinga Stewart, Roman Stewart, The Blues Busters - Lloyd Campbell and Phillip James, and Max Romeo. The 30,000-square-foot venue, a go-to spot for skate-world renegades in the early 70s, was a de facto community center where teenagers came after school and families spent the weekend. It was the perfect place to host such a historically important music event such as this.
Track Listing / Features:
Dread Ina Babylon - Greenbay Killing Intro
Big Youth - Hit The Road Jack
Big Youth - Ten Against One
Big Youth - Dreadlocks Dread
Big Youth - Every Nigger Is A Star
Big Youth - I Pray Thee
Leroy Sibbles - Rock & Come In
Leroy Sibbles - Sweet Talking
Leroy Sibbles - Love You So
Leroy Sibbles - Party Time
Blues Busters - Phillip James & Lloyd Campbell - Behold
Blues Busters - Phillip James & Lloyd Campbell - Girl
Delroy Wilson - Dancing Mood
Delroy Wilson - Delroy Intro
Ken Boothe - Everything I Own
Ken Boothe - Don't Want To Say Goodbye
Ken Boothe - Freedom Street
Roman Stewart - Gambling
Tinga Stewart - Lick Shot Medley
Max Romeo - Peace & War Ina Babylon
Max Romeo - Getting Through To You
Dread Ina Babylon - Encore S 90 Skank
Big Youth - Jim Squeetchy
Blues Busters - Phillip James & Lloyd Campbell - Give A Little More
Delroy Wilson - Conquer Me
Ken Boothe - Moving Away
Dread Ina Babylon - Mindblowing Decision
Musical Youth : Live in the UK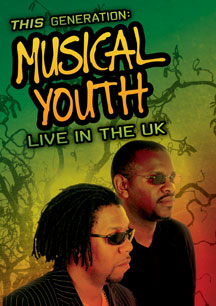 Musical Youth formed in 1979 at Duddeston Manor School, Birmingham, England. This pop/reggae influenced group, featured two sets of brothers, Kelvin and Michael Grant, plus Junior and Patrick Waite. Their massive 1982 hit "Pass The Dutchie" was the first of their songs to capture the public's imagination. It propelled their record to Number 1 in the UK singles chart, and went on to sell over four million copies. It was also nominated for a Grammy Award, and charted in the US Top 10. Youth Of Today, Never Gonna Give You Up, 007 and Tell Me Why? were also big international hits. This DVD features these incredible musicians live in concert!
Track Listing / Features:
Tell Me Why
54:46
I'm Into Something Good
Sixteen
Pretty Women
Never Gonna Give You Up
007 ( Shanty Town )
One Love
Pass the Dutchie
Street Date: 08/07/07