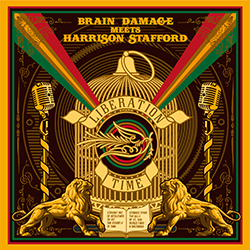 Liberation Time is the result of the collaboration between French dub producer Brain Damage and Californian singer Harrison Stafford.
Martin Nathan is considered as one of the founders of the French dub scenes. With more than 12 albums in his own career, he worked on many artistic projects under the name of Brain Damage since 20 years.
Harrison Stafford was the singer of fusion reggae band Groundation. Created in 1998, the band released 9 albums, the latest was A Miracle in 2014. At the same time, Harrison Stafford is teaching reggae history at university, he shot the documentary Holding On To Jah in 2009, and he leads a solo career since 2011 as Professor.
Liberation Time is the first collaboration between these two reggae artists. The album will be released on October 20th 2017 (CD, Vinyl and digital) on Jarring Effects' label.
Tracklists:
Liberation Time
Everyone A Christ
Singing Soldiers
Rebel Music
Harrison Hello
Stand By Me
Baby
Raw Talking Rebels
Pick Up Yourself
Open Up