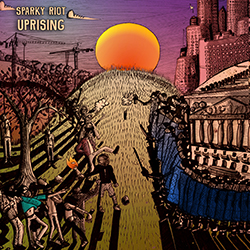 Sparky Riot, the duo of French 4bstr4ck3r (producer and DJ) and Damian (vocalist), comes back with 3 new dub songs in a bigger formation, including saxophon and clarinet.
Their new EP called Uprising is an exploration in our present time of struggles and resistance through lyrics that fight against social regression and economical disaster.
Uprising EP was released on September 13th, 2017 for free download on Bandcamp.
Tracklist:
A-Rythm-Ethic
Once Upon A Time
Time For Anticapitalism