Caribbean Love Now is an organization formed by DownSound Entertainment, Reggae Sumfest, Joseph Bogdanovich and other government and brand partners in Jamaica to provide relief, rebuilding, and recovery to hurricane ravaged islands in the Caribbean. They have already sent containerloads of building materials and supplies. Several collection points have been organized in Jamaica to get fonations of goods from private citizens and businesses.
They are now staging JAMATHON on November 22, a benefit concert to help rebuild several Islands wiped out by Hurricanes Maria and Irma. It will take place from 7pm-11pm at the National Indoor Sports Centre in Independence Park in New Kingston, Jamaica.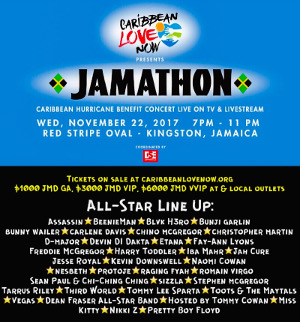 The lineup includes Assassin, Beenie Man, Blvk H3ro, Bunji Garlin, Bunny Wailer, Carlene Davis, Chino McGregor, Christopher Martin, D-Major, Devin Di Dakta, Etana, Fay-Ann Lyons, Freddie McGregor, Harry Toddler, Iba Mahr, Jah Cure, Jesse Royal, Kevin Downswell, Naomi Cowan, Nesbeth, Protoje, Raging Fyah, Romain Virgo, Sean Paul & Chi-Ching Ching, Sizzla, Stephen McGregor, Tarrus Riley, Third World, Tommy Lee Sparta, Toots, Mr. Vegas, Beres Hammond and more to be announced.
An All-Star reggae band led by Dean Fraser will back all performances. Tommy Cowan, Miss Kitty and Pretty Boyd Floyd will host the show.
"In the face of global warming, what happened in Barbuda and particularly Dominica, is indeed something to think about and the consequenc­es," said Joe Bogdanovich, DownSound Entertainment CEO and founder. "I feel fortunate to be in Jamaica where the storm didn't hit us, but at the same time we have to lookout for our brothers and sisters and vice versa — you have to do something."
"We got a good response for music fraternity — music is stepping up as a force and I really hope tourists see just how good folks can be," he also said. "These are major artists that have sympathy for their neighbors, and they're giving their appreciati­on."
"This is a good look for Jamaica and a big look at what we can do as a Caribbean people," he continues. "We are turning a negative situation into a positive one and we are able to show who we are as a Caribbean people, as Jamaicans, and how to spread Caribbean love now."
The show will also be live streamed globally on the Reggae Sumfest YouTube channel and below. There is also an online donation platform available now.
Bogdanovich is hoping to raise $100,000 locally from sales, and more from digital subscribers who stream the show. He adds that this concert will be a chance to use music to unite and show camaraderie in the region.
More details at http://caribbeanlovenow.org.