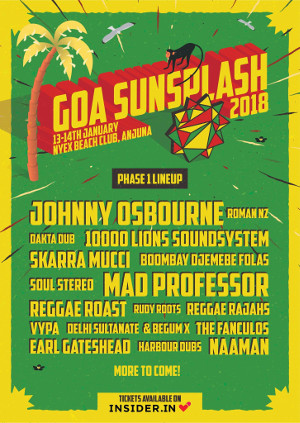 10,000 Lions, an international sound system collective based in India, say they are looking forward to the third edition of Goa Sunsplash Festival. Taking place in Anjuna, Goa on 13th and 14th January, Goa Sunsplash will feature headliners Johnny Osbourne, Mad Professor, and Skarra Mucci – with 10,000 Lions hosting the sound system stage.
10,000 Lions describe themselves as "the first ever reggae dub soundsystem in India." Their sound rig was built in a jungle house in Agarwada by a team of Italian, Sardinian, Swedish and Indian reggae devotees. The project was a collaboration between members of Italy's Ital Soup Records, Sardinia's Filuferroots, Realoveution Hi Fly/Sardinia Reggae Festival, Sweden's Ninjahdread, and India's Reggae Rajahs.
The sound was first unleashed on New Year's Eve, 2015. Since then 10,000 Lions has played weekly beach sessions at Goa Dub Club, the first and second Goa Sunsplash, VH1 Supersonic Festival roots stage, and All India Dub Conference 2016.
"The team mission is to spread reggae music, its message, its massage, and the natural sustainable lifestyle" say 10,000 Lions in a press release "Inspired by Rasta culture, Shiva culture and Permaculture, it's a musical trip to the roots of the cosmic identity. Roots music brought us together at the junction between the Rasta culture (especially the dreamy militant utopian equalitarian way) and Hindu culture (especially Advaita Vedanta stream and Sadhu lifestyle)."
More details on Goa Sunsplash can be found here: https://www.facebook.com/GoaSunsplash.