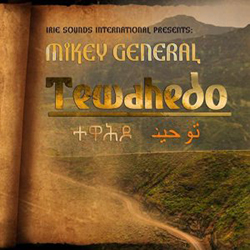 Mikey General recently released his new album called Tewahedo. "The producer of the album is James Lord aka Dr Suess." told us Mikey General. "The name of the label is Irie Sounds International. Dr Suess produced an album with Warrior King and then he linked me and we did the project. He is from California but he lives in Jamaica, he works for Zojak World Wide international in Jamaica."
Tewahedo was inspired by the Ethiopian Orthodox Faith and means oneness. "It was recorded by a various set of artists. Kirk Bennett, Computer Paul, Wadi Dad, Dr Suess himself who played some of the instruments. And it was recorded mostly at WASP studio in Kingston and two songs at Don Carlos' son studio in Portmore." he explained.
About featurings, Mikey told us "On the album we featured Sugar Minott, Spectacular and a bredrin named Binghi Ghost. The song with Sugar Minott was a production that Dr Suess had and he said that the song was not completed. So he asked me to just fill it and to put in spot the parts Sugar Minot left outta road".
With Tewahedo Mikey General signed his 13th studio album. He previously released albums such as Sinners, African Story African Glory, I'm Just A Rastaman and Spiritual Revolution.
Born in the United Kingdom, Mikey General spent his time between England and Jamaica perfecting his craft. His discography includes over 200 tracks and his career that spans over three decades has seen collaborations with artistes such as Maxi Priest, Papa Levi and Luciano, with whom he founded Jah Messenjah Productions and Qubala First Music in 1998.
"I want to give thanks to all the people who played a part in getting the album out. It is a message album as usual. I don't change the message. It is always to uplift and to strength the people", concluded Mikey General.