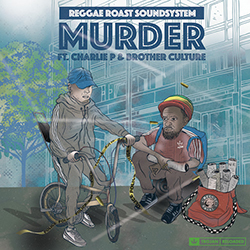 UK sound system and production company Reggae Roast are the first signing to historic British label Trojan's new Trojan Reloaded imprint.
Their debut release under the banner is Murder a digital dancehall combination by two of Reggae Roast's frequent emcees, South London's Brother Culture and Southend's Charlie P.
To an up-tempo 80s inspired rhythm, Culture and Charlie comment on the increase in violent crime while also talking up their musical credentials.
As well as a dub and a non-vocal version, Murder gets a drum and bass remix by Benny Page.
"With Trojan Records celebrating their 50th anniversary, it signals their continued commitment to a continually evolving genre that has stood the test of time" said Reggae Roast of their sighing in their press material.
Murder is out now on 7 inch vinyl and for digital download.