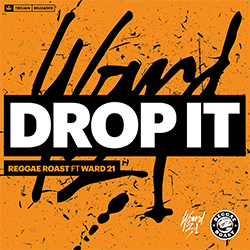 UK sound system and production company Reggae Roast have issued their third single since signing to Trojan's new Reloaded label.
Where previous releases have tipped their hat to the 80s digital dancehall era, Drop It, featuring Jamaican deejay/production trio Ward 21, has more of a 90s feel.
The rhythm is a body shaker in the tradition of Murder She Wrote. Over it Ward 21 refashion the lyrics to Sugar Hill Gang's Rappers Delight for a lascivious party encounter. There's even a Trinidadian steel pan - in honour of Notting Hill Carnival, which took place on the same weekend as the release.
Drop It is out now. A drum and bass remix by Aries and Kelvin 373 follows on September 7th.
Contact Reggae Roast here.