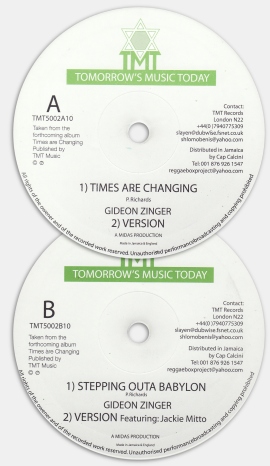 The Britain label Tomorrow's Music Today comes with a new 10' featuring Gideon Zinger on mic. After We Bun Ganja, released in late January, here are two brand new roots tracks performed by the Zinger, which are taken from his upcoming album.
Two conscious vocal cuts as great as their dub versions for this new production ! Times Are Changing on the Heathen riddim followed by the dub version powered by a ruff bassline, and on b-side, Stepping Outa Babylon followed by its heavy dub led by great keyboard and percussions.
Errol 'Gideon Zinger' Bellot is a singer and deejay of the UK reggae scene active since the early 80's. He recorded for sound systems like Unity Sound, King Original and Jah Tubbys and released various singles until today. His discography contains some crucial tunes in roots, digital and UK stepper style. To name some, he recorded the hit Babylon for S&G in 1981 and the powerful Rootsman on Must Dance label the same year. Also killer digitals as What a Wonderful Feeling for Unity Sound or Sound Ina Fury released in 1986 on Jah Tubby's. More recently, he released various stepper sound systems anthem still in colaboration with Jah Tubby's (Roots Gone International, Glory Hallelujah, Rastafari Is The Only Way) and is also working with Reality Shock Records.