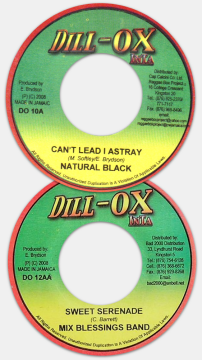 Two years after his first riddim released in late 2006, producer Ox from UK based label Dill Ox Inta comes with four new series : Vet Law, Sweet Serenade, Leading and Tribute to Bim along with new cuts on his debut Lolo Bell riddim with Ambilique, Phillip Flavour, Lukie D, Treva and Roger Robin on mic.
The artists featured on Vet Law are the young Torch from JA, deejay Arabingi native from Iraq, Chezidek, Sizzla or veteran Al Campbell to name just a few. Sweet Serenade features three tracks by Alpha Rowen, Archie Wonder and female singer Rasheeda. We found one powerful vocal cut from Natural Black on the Leading riddim while the fourth one, titled Tribute To Bim, based on Sherman's great Love Forever, includes two tracks by Torch and by the female singer Angel.
While good modern roots releases are getting rarest, Dill Ox strikes hard with 4 tough riddims voiced by reknown and up-and-coming singers. As Ox says : " I'm not about producing fashionable formula hits for the moment, I'm in for the long haul. So once you give my product a listen 2 or 3 times then you'll be hooked! Watch and listen out for future products touching your soul ".