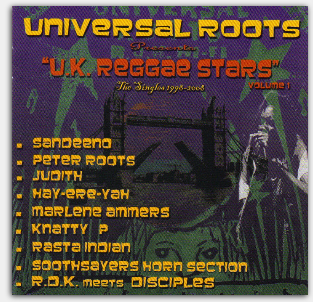 Brixton based Universal Roots records, the label of R.D.K.Hi Fi sound system, presents the first volume of their UK Reggae Stars compilations.
It features a selection of 15 tracks produced by Markie Lyrics, only released as 7s and 10s on his label Universal Roots between 1998 and 2008. We found several top tunes by various artists including Sandeeno, Marlene Ammers and Knatty P as well as nice roots instrumentals by Soothsayers.
A good representation of Universal Roots' productions from the beginning of the label in 1998 until today. Recommended.