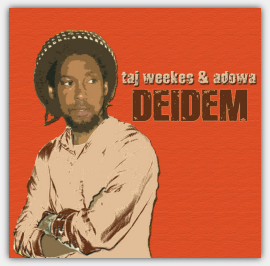 After releasing their debut album, Hope & Doubt in 2005, Taj Weekes and Adowa come with a new set called Deidem, just released on Taj' label Jatta Records. Across 11 tracks, the soulfoul singer native from St Lucia delivers conscious lyrics -notably about global and humanitarian issues- on fresh roots reggae riddims.
More than painting a realist portrait of our planet and society through out his music, Taj Weekes is working as Goodwill Ambassador to the Caribbean and as founder of his charity, They Often Cry Outreach, which is dedicated to improving the lives of underprivileged, at-risk and orphaned children around the world.
Here is the first single issued from Deidem.