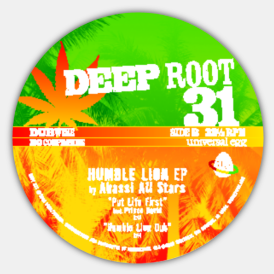 New 10'' on German label Deep Root with a new release from Abassi All Stars. It features 3 vocal cuts including Omar Perry and German female singer Minoo on side A. On the flipside we found the up and coming Prince David out of the Moa Anbessa crew, from Venezia, Italy, followed by the dub version by Abassi All Stars.
Abassi is a collective of musicians based around Neil Perch's Zion Train recording studio in Cologne, who released their debut Showcase album in 2007.
As always on Deep Root, this 10''' is a limited edition, due out for late May. So don't be late, make it a date !