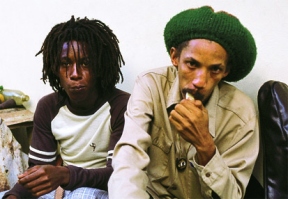 Here is a release that dub followers and particularly Augustus Pablo fans will probably love. The Mystic World Of Augustus Pablo : The Rockers Story features 4 sets and a DVD of live performances tracing the career of the late talented musician and producer Augustus Pablo.
First disc Classic Rockers focuses on 1970's productions while disc 2 Roots Rockers presents a selection of vocal productions as killers by Earl Sixteen and Delroy Williams to name just a few. The third volume New Style Rockers features songs from the 80's digital era as Junior Delgado Raggamufin Year. Last disc Rockers Rarities presents rarities, unreleased tracks by Earl 16 and Lloyd Hemmings, and includes some tunes previously only available on vinyl as great Asher & Tremble's Humble Yourself.
A nice tribute to the Jamaican dub master and melodica pioneer Horace Swaby aka Augustus Pablo due out on 17th of June on Shanachie.