Backyard Movements, Russ D. (The Disciples) UK label, releases two new 12" with Christine Miller, Tony Roots, Murray Man & Lutan Fyah on the microphone.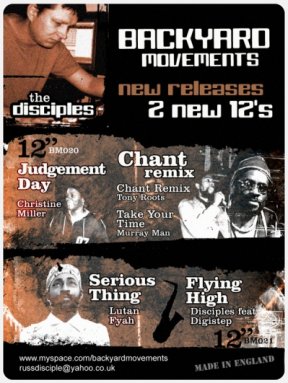 On side A, we can listen Lutan Fyah in very good shape on Serious Thing, followed on side B by the Flying High instrumental, a dub made in cooperation with the english producer and saxophonist Digistep, who has already worked with The Disciples or Dubkasm.
Backyard Movements presents for this second 12", Chant Remix, a new version of the Tony Roots' track, Chant.
Here that's come 3 great tunes, with the beautiful voice of Christine Miller on Judgement Day, Murray Man on Take your Time and Tony Roots on Chant Remix, backed by some percussions and an heavy bass proper to Russ D style's productions.

Two 12" that will make uk dub lovers happy !