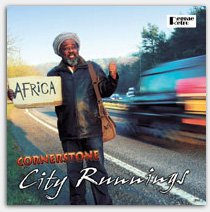 After the recent release by Negus Roots label of Jah Shaka killer 10', Killamanjaro with Neville Brown on vocals, Reggae Retro releases City Runnings from this conscious roots singer. The album was originally recorded in 1994 and has been remastered by Top Beat; it features 15 roots reggae tracks over nice digi roots riddims. We found great tunes - backed by Peter Culture on vocals- as Ibo Woman, Inner City Reggae, City Runnings, Fighting To Be Free, Wild One, Chi Chi Bud and Wake Up.

Neville Brown of Cornerstone is a roots singer from Birmingham. He is the founder member of Cornerstone, UK reggae band created in the Eighties. After the split of the group, Neville Brown worked with homeless young people and people at risk. Then, he set up, Talking Drums, a social enterprise that offers music programmes and personal development via drumming circles and cultural awareness. In November 2005, he visited Ghana, where he witnessed much suffering and distress. Back in England, the soulful voice singer founded 'Tribute to African Children (TAC)'. A charity-development and relief agency working towards alleviating poverty, sickness, and homelessness of vulnerable and disadvantaged children in Africa. Check TAC and Talking Drums out here: www.tributetoac.co.uk and www.talking-drums.co.uk.

One album and two projects to support.