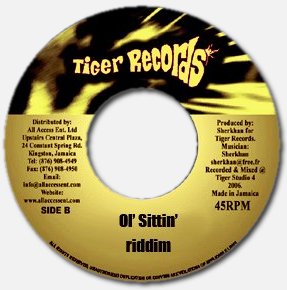 After the Skylarkis riddim released on january 2007, the french producer Sherkhan who lives in Kingston since 2003, comes back with the Ol'sittin riddim released in 7" there is two weeks ago on his Tiger records label.
Like on his previous productions, Sherkhan controls everything. Recorded in his studio in August Town (Kingston), he plays himself the different instruments (except drums) and has mixed and produced the different tracks of this serie.
Norris Man - Let Love Control
Perfect - Just For Love Sake
Diana Rutherford - Selfish Love
Assaillant - Don't Do Me Dat
Michael Rutherford - Blooming Love
Junior X - Modern Day Pharaoh
Zeno - Too Much Trouble
Teflon - We Get It All Bout'
Sherkhan will also release the dancehall Arena riddim with Busy Signal and Teflon.