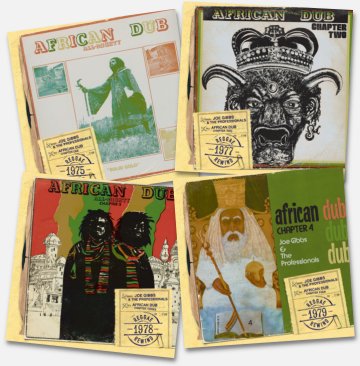 Besides Dennis Brown - Visions and Joe Gibbs Reggae Christmas, Vp Records focuses on Joe Gibbs productions with the release of the four volumes of African Dub, originally released in the late 1970's. They will be available on October 23, 2007 and followed 8 major reggae album reissues since end 2006 by Vp records. The label carries on his new reissue policy with its Reggae Rewind serie formalized with the creation of the 17 North Parade imprint on September 2007 to re-release this original reggae and vintage dancehall albums.
Originally released on Joe Gibbs' labels (Lightning records and Joe Gibbs records) in 1978 and 1979, the dub versions have been recorded at Joe Gibbs and Errol T studios with The Professionals, Joe Gibbs' studio band (with Sly Dunbar, George Fullwood, Robbie Shakespeare, Lloyd Parks, Bobby Ellis and Tommy McCook among the changing musicians formation).
Mixed by Errol T, Joe Gibbs' sound engineer, this for 4 chapters feature great dubs of Dennis Brown, Big Youth, Alton Ellis or Trinity vocals.