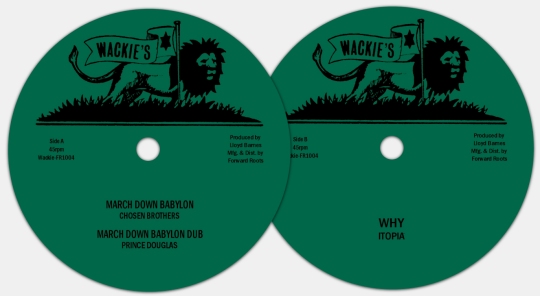 Forward Roots continue to disseminate choice Wackies cuts with this 10" release.
On the A side is the Chosen Brothers' March Down Babylon and its version mixed by "Prince" Douglas Levy, March Down Babylon Dub. The iconic, stalking bass line to Steel Pulse's Handsworth Revolution is overlaid with some meandering jazzy keys, minimal horns, and a menacing vocal by Lloyd "Bullwackie" Barnes himself, which mixes up ominous chanting and increasingly flamboyant singing as the track ensues. The version (which will be familiar to Wackies lovers from Douglas' Dub Roots LP or CD) brings a muted "bobbling" guitar that shadows the bass and some heavily delayed and processes snare drums to the forefront of the mix.
On the flip we have another jazzy roots cut from one time Wackies house band Itopia. Just as March Down takes inspiration from Steel Pulse, Why, could easily be the work of Babylon era Dennis Bovell band or Aswad (although it's quite possible the syncopated rhythm and smooth sax elements came via interaction with NYC's jazz scene rather than being directly inspired by what was going on across the pond.)
Two excellent compositions showcasing the "hep" side to roots and dub in full effect as a new decade was getting underway. Out now.