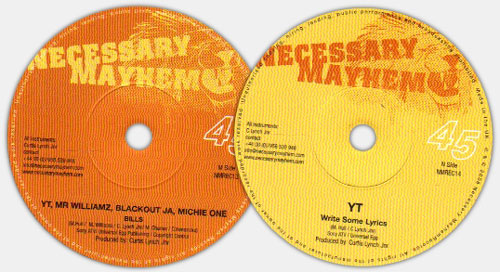 London based label Necessary Mayhem has recently released two new 7'' inches that hit the charts. With his recut of the Police In Helicopter and Shank I Sheck riddims, producer Curtis Lynch presents 4 new tracks voiced by Million Stylez, YT, Mr. Williamz, Michie One and Blackout Ja.

The first 7'' features Sweden's up-and-coming Million Stylez's Babylon Helicopter over a recut of Junjo Lawes' Police In Helicopter riddim. Side B is YT's Write Some Lyrics over the Shank I Sheck riddim. The UK deejay urges every artist to write intelligent lyrics, at least, avoid negative ones. Two interesting modern cuts to remixed classic riddims.

The second 7'' comrpises YT in combination with Mr. Williamz, Blackout Ja and female singer Michie One over the Shank I Sheck for a tune about bills and the difficulty for many of paying them. Second track on side B is new comer deejay Mr. Williamz' great Police in Helicopter version.

We suggest you to listen to a sample of Heat Seeking Camera. This is YT's brand new cut to John Holt's Police In Helicopter, only available on mp3. All four tunes are out now on 7'' and for download; further cuts to these classic riddims are digitally available.