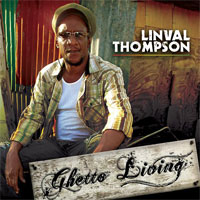 Ghetto Living, that's the title of Linval Thompson's upcoming album. Due out in stores early 2009 on Thompson Sound label, this new effort, the first full studio recording from Linval in over 15 years, marks his return to live rhythm production.
Ghetto Living should be in the same vein as Linval's classic productions from the 70's. "The music from the 70s and 80s is relevant today because it's positive, is a positive vibes. On Ghetto Living everything is reality. No gimmicks.", said the Jamaican veteran.
Awaiting for more info, we invite you to listen to the first single called Bad Boy, a strong combination with Warrior King. More info soon, stay tuned !