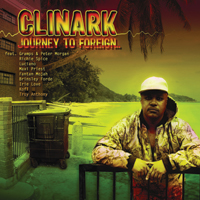 You may already know Clinark for both hit singles Dem Come and Fire Bun which he recorded under the name of 'Dillinjah'. The Bermudian reggae singer aka The Reggae Torch now releases his first solo studio album called Journey To Foreign.
This new effort -out on his label Nurture Projects- features 20 quality tracks from modern roots to lovers rock. Guests-wise, we found several combinations with artists such as Gramps & Peter Morgan from the Morgan Heritage family, Hawaïan Irie Love, Richie Spice, Maxi Priest, Luciano, Fantan Mojah, Kofi, Troy Anthony & Brinsley Forde from Aswad.
Journey To Foreign was produced by the UK duo Mafia & Fluxy and recorded by Gussie P at Mafia & Fluxy Studios and at Stingray Studios in London, UK. Recommended.