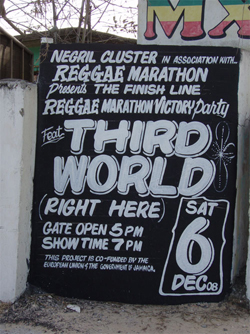 In an article written by Andy Dixon, editor of the prestigious sports magazine "Runners World", Reggae Marathon was listed along with London, Rio de Janeiro, Berlin, New York City, Venice, Stockholm, Swiss Alpine, Marrakech and the North Pole as being among the world's best.
Praising Negril's unparalleled setting in part for the event's growing popularity, the article stated "Jamaica's marathon has quickly become a popular fixture - and it's not hard to see why. The race starts before daybreak to dodge the heat, with a guard of honor of locals bearing flaming torches. The route never strays more than a few yards from the Caribbean [sea] and its silver sand."
According to Tanya Miller, President of the Jamdammers Running Club of Kingston, organizers of the event, "As we celebrate our eighth anniversary this year, this is great news for Reggae Marathon and Jamaica. We are thrilled that we have been ranked with the best in the world and we thank all our sponsors, supporters, volunteers and most of all the people of Negril and Green Island for helping us to transform an idea into a world class event."
To add to the excitement and to provide alternatives for the participants, the organizers have this year added the 10K as a race option. This addition, according to Race Director, Alfred "Frano" Francis, represents an effort to "include those who want to participate in the event but may not yet be ready to compete in either the marathon or half marathon."
Reggae Marathon/ Half Marathon and 10K which will be held in Negril on Saturday, December 6 continues to attract participants from across the world. This year representatives from some 11 countries have already signed on to compete with the largest contingent coming from the Canadian
Charity group Joints in Motion which is returning to Jamaica after a successful visit last year. The YellowBird Foundation, a non-profit charitable organization also out of Canada, and dedicated to "the development of some of the communities of [their] favourite travel destinations" mainly through educational initiatives, is also scheduled to participate.
This year's staging will take place this year on Saturday, December 6, in Negril, and later on that evening, party goers can enjoy the Reggae Marathon Village Bash & Victory Party that will feature none other than the internationally acclaimed reggae band - Third World. The event has been dubbed the "Finish Line" and will be held at the MX3 Park on the One Love Drive. Other performers on the billing are Stevie Face, Timmi Burrell, Vengeance, Ali C, Fernando and The Hiyah Grade band.