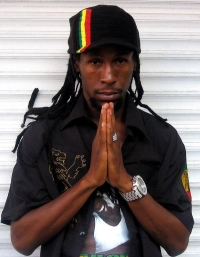 The Universal Cure which will come out as a joint venture between Miami-based indie SoBe Entertainment and Jamaica's Danger Zone Records, documents the journey of the one-time Siccature Alcock, who struggled for recognition as a teenage artist and found it a few years while incarcerated in 1999. He steadfastly maintained his innocence.
Whilst in prison Cure became an integral part of the Jamaican correctional system's Music Rehabilitation Program. Led by the program's director Gladstone Wright , Cure began releasing singles like Love Is and Longing For, characterized by deeply emotional deliveries .
As his renown grew, details emerged of reported irregularities in the legal proceedings that led to his conviction. Defending Cure's innocence became a an sensaation throughout the reggae world, Several Jamaican rights groups, expressed outrage at the artist's newfound celebrity and the sympathy his hits generated.
The Universal Cure includes Reflections, Cure's seminal penitentiary recording. But it's also significant for roots reggae tracks like Sufferation, Freedom and U Believe in Me, the last of which expresses gratitude to his supporters.
Since his release, Cure's red-hot hit-making streak has noticeably cooled. But his team is hoping to rekindle the fire with The Universal Cure, which is led by the single Mr. Jailer. The track was previously a hit for its writer, Nigerian singer Asa.