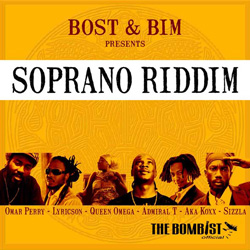 After the acclaimed Yankees A Yard #2 last winter, French musicians Bost and Bim return with the Soprano, another great modern roots reggae riddim. There's an interesting line up for this production with 6 cuts featuring Sizzla, Omar Perry, Queen Omega, Lyricson, Admiral T and Aka Koxx. The series will be released on 7'' and for download for Christmas.
Check out the megamix.
Sizzla "It's Just You And I"
Queen Omega "Jah Dawta"
Aka Koxx "Serious Time"
Admiral T " So Clean, So Nice"
Omar Perry "Woman I Love You"
Lyricson "Those With No Love"