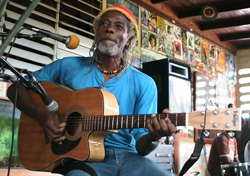 For its 22nd release, the French label Makasound has chosen to reissue an album that only a few reggae enthusiasts remember: Exiles Ina Babylon by Merger.
More than thirty years after its original release in 1977, this album still sounds like a modern one; probably due to its cross-over style mixing very good Reggae with notes of blues, soul and even rock music. The reissue also includes two very interesting bonus tracks recorded in 1980 at Harry J studios.
The release is scheduled for January 2009. Check out Understanding, the first track from this hotly anticipated reissue.