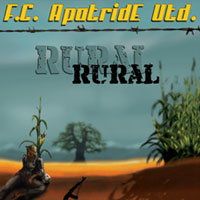 Serbian Marxist rebels FC Apatride Utd have released a new 12" on UK based Urban Sedated Records. The band deny a split with previous label Makasound, who put out their albums On The Frontline Menu and Them, simply wishing to safeguard their underground credentials.
"We decided to keep our independence and offer our material to whom we like," said singer Abdelraheem Kheirawi. "Urban Sedated records contacted us over myspace a few months ago. They said they were fans and wanted to release something by FC so we happily agreed to it for the very fact that they were open and straight forward...also the UK is our weak spot since we are admirers of UK roots from the seventies..."
Rural Lovin' is the first of three 12-inch releases planned by the philosophically rigorous, politicised Muslim collective – all of them outtakes from the sessions for their upcoming third album. In a statement to United Reggae Kheirawi appraised the material thusly:
"We don't consider them good enough to be on the third album but good enough to be released...thanks to all the crap reggae scene feeds us with these days which makes my heart bleed."

FC Apatride Utd frown on dancing and the smoking of ganja at their shows and these two factors have an audible effect on the music, which lopes to a lilting phlegmatic beat that seems on the verge of dropping out of time. Unusually, the multi-layered guitar work (in the style of Misty In Roots or Capital Letters) takes precedence over the bass, whose tone is thinner and less woolly than in traditional reggae. A side Rural represents a definite progression in their song writing. It has a catchy call-and-response three-part harmony vocal based on assonant vowel sounds that captures the spirit of the more sombre end of the seventies roots spectrum, and an interesting bridge that switches the song temporarily from swing to straight time. Lovin' maintains a tad more of the bluesy mainstream rock flavour found on Them.
Coming from the hard leftfield of the Euro reggae scene Rural Lovin is out now on Urban Sedated – on coloured vinyl, mis-stamped at 33rpm.