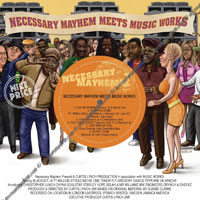 London based label Necessary Mayhem presents Yout Outta Street by Tippa Irie , Blackout Ja and YT . This fierce warning to the youths is a recut of the heavy John Law by Freddie Mc Gregor, Ninja Man and Gregory Isaacs, recorded at veteran producer Augustus 'Gussie' Clarke's Music Works Studios in 1991.
The track is strictly available as an exclusive 'download dubplate' from the UK label site and is taken from the forthcoming LP "Necessary Mayhem meets Music Works". Featuring new tracks by Gregory Isaacs, Tenor Fly, YT, Tippa Irie, Million stylez, Michie One to name a few, produced by Curtis Lynch and based on original material by Gussie Clarke. Due out on February 23rd.
Awaiting the release, check out this promising first single!