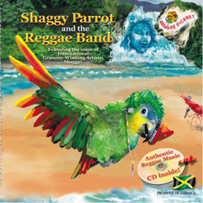 Grammy Awards winner Orville 'Shaggy' Burrell sometimes refers to himself as a big child. So it came as no surprise to hear that the platinum-selling reggae artiste with slightly-curved lips resembling that of a bird's beak, undertook the title role as Shaggy Parrot in the recent book Shaggy Parrot and the Reggae Band. The book is the brainchild of another renowned Jamaican singer Jana Bent, whose brother Rupert Bent 111 created the CD's music. Being the manager of Sean Paul's band, Badda Banz, he incorporates other members.
In September 2008, the book was added to Jamaica's Early Childhood Curriculum Resource List, and on Wednesday, January 7, 2009 the book was launched at the Kingston and St Andrew Parish library.
Through the book, both visual and performing arts are put to work complimenting each other. The colourful illustrations by Trinidadian John Mendes, teach about Jamaica's coasts, and indegenious sea creatures, musical instruments in a Reggae Band, and limited reggae dance steps. But then you can get a glimpse of typical dressing of Jamaicans in a reggae scene from the Coral Line dance crew. Following the audio CD, where the narrator leads you through the book, you also learn about harmony of notes, harmony of teamwork, and musical instruments. On the other hand, through the literary skills of the writers, there are many lessons on respect, harmony in nature and the environment. The writing team includes Shaggy's girlfriend Rebecca Packer, Kellie Magnus and Ireland-born Veronica Salter Ph.D.
Although Shaggy Parrot (Shaggy) is the obvious title role, being the one to lead his sea creature friends in keeping the Jamaican waterfall, Laughing Waters clean, it is Swimpy the Shrimp, who comes through as a real star. He teaches about achievement through perseverance. He doesn't stop nagging Shaggy until he is allowed to sing in the Reggae Band, and his song turns out to be one of the best on the CD.
Ambassador Denis Kingsley reiterated support from the Canadian government to "Edutainment" – the concept of education and entertainment being explored in Jamaica through the book.Nothing could hold back the swelling pride in the hearts of all who witnessed the children of John Mills All Age School represent them in saluting Shaggy for all he had at least begun in daring more Jamaicans to care in the very first week of the year. They were very animated as they most fittingly sang Swimpy's "Clean it Up", a track from the book's CD.
The book exposes children to international high standards of both visual and performing arts.