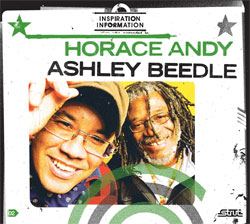 Veteran Horace Andy, also known for his collaboration with Massive Attack linked up with UK producer and remixer Ashley Beedle for a new and unique soundclash.
This new album in the Inspiration Information series was recorded during five-day writing and recording session in London in late September. The result is a 10 track set produced by Ashley Beedle who « draws on all of his diverse musical influences to create a collection of fresh roots fusions, ranging from dancehall to dubstep » as the PR says. Due out for release in February.
Check out The Light, the first single with Mr Andy on vocals.