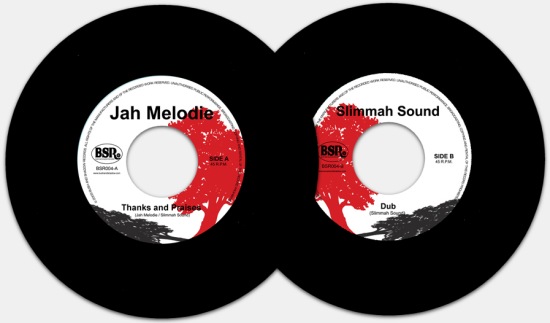 Most readers will have heard of Jamelody, the sugar voiced Trinidadian singer who fuses commercially minded one-drop reggae with R&B ballads. But there is another artist with a similar handle, Jah Melodie, a serious and sombre Dutch rootsman, who used to go by the name of Bagga T.
This Jah Melodie has just released his latest single Thanks & Praises on Bush And Shadow records. Like previous efforts Love Fire Burning and Get Active, it's produced and arranged by Slimmah Sound and has an atavistic, unworldly roots feel.
As the title suggests, the song is a direct exhortation to praise Jah; over a mournful mix of whirling organs and tormented, wailing backing vocals. Jah Melodie's fervent, almost caprine, delivery takes its cues from the likes of Prince Alla or Fred Locks, but has an almost medieval, doomy quality and a raggedness reminiscent of English folk and rock acts like Richard Thompson and Jethro Tull. Suffice to say, he won't be starting a sideline in lovers hits any time soon.
Slimmah Sound's version makes the piano, guitar and snare drums reverberate to create a suitably hallowed mood. Another nice touch is Tollak Ollestad's harmonica, a pleasant antidote to the over-use of melodica in UK and Euro dub.
It's a shame Jah Melodie has a name so close to that of a fellow artist, especially one with the full power of VP records behind him. Thanks & Praises deserves better than to get lost in the confusion that will presumably result.