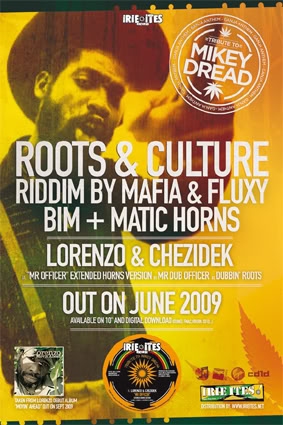 The French label Irie Ites has come up trumps with their civilly disobedient new roots 10".
Enlisting the combined talents of two St Ann's singers – the Al Campbell reminiscent Lorenzo and the inimitable but slight Chezidek – 'Mr Officer' makes a timeless plea for leniency in the face of herb destruction. Based on Mikey Dread's Roots & Culture rhythm, it's an uncompromising roots piece that will sound equally at home in a modern or vintage selection.
The A side features the vocal duet with an aggressive extended brass break from the UK's Henry "Buttons" Tenyue and his Matic horns. The two dub B sides are a cross-channel collaboration between Mafia and Fluxy and Bim from Special Delivery.
Stamped with a special tributary Mikey Dread "Dread At The Controls" mock up logo, this un-missable slab of pure musical judgment is out now on Irie Ites.