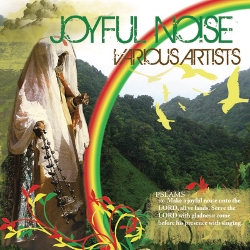 The VI label I Grade is back with a serious compilation called 'Joyful Noise'. This collection of 20 tunes features renowned and up-and-coming artists from Jamaica, Virgin Islands, Trinidad, Guyana and Sweden. On the VI side we got Vaughn Benjamin of Midnite, Pressure Busspipe, Niyorah, Batch, Danny I, Sabbattical Ahdah and Junior P. Out of Jamaica : the rising star Duane Stephenson, Lutan Fyah, Norris Man and Messenjah Selah. Trinidad is represented by Queen Omega and I Sasha, while we got the great Jahdan Blakkamoore and the up-and-coming singjay Arkaingelle from Guyana and to conclude, the roots duo Nazareness from Sweden.
The 'Joyful Noise' CD consists of four rootsy rythms - the Harvest Riddim, the Discipline Riddim, the Flying High Riddim and the Grasslands Riddim - each including five tunes, produced by Zion I Kings (producers for Zion High Productions (Jah David Goldfine), I Grade Records (Tippy I Alfred) and Lustre Kings Productions (Andrew "Moon" Bain).
Don't miss this compilation if you like joyful modern roots and conscious reggae !
Awaiting the CD release on October 20th, check out the megamix of the powerful Flying High and Discipline riddims. Also available on iTunes and other digital download sites .